Hormone Yoga
Hormonal fluctuations generally accompany women's passage into each new biological state of life, creating a hormonal roller coaster with physical and emotional discomforts. Hormone Yoga i s a new concept to rebalance your hormones, to reduce unpleasant symptoms of menopause, to strengthen bones, muscles and nerves, to stabilize emotions and to prevent even more serious illnesses like heart disease and osteoporosis.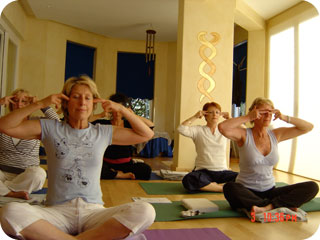 If you are just a healthy and happy woman, then yoga deepens your vitality and creates general well-being. HORMONE YOGA THERAPY classes consists of therapeutic, dynamic sequences of Hatha – and Kundalini Yoga, breathing techniques and meditations to increase the flow of energy to the glands and other organs.
It is a drug-free, holistic method that offers an alternative therapy to the conventional treatment with HRT.
Read More! Hormone Yoga Article